Ambient Air Monitoring
Ambient Air Monitoring operations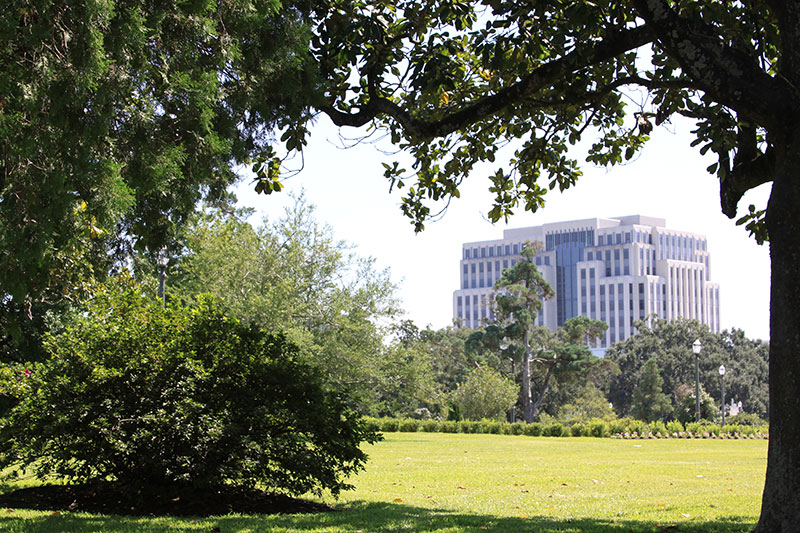 Animals of Louisiana
Squirrel
Photo by John Smith
Lousiana Swamp
Photo by John Smith
Ambient air monitoring operations are the responsibility of the DEQ Assessment Division, Air Field Services Section. The Air Field Services Section maintains a statewide monitoring network, made up of stationary ambient air monitoring stations. From these sites, Analysis personnel collect direct measurements of air pollutant concentrations, analyze, and interpret the data. The data collected is used to track trends in air quality and to determine compliance with National Ambient Air Quality Standards. Monitoring sites contain specialized instruments to measure concentrations of the pollutants ozone, sulfur dioxide, nitrogen dioxide, carbon monoxide, lead and respirable particulate matter, in accordance with federal air monitoring requirements. The Air Field Services Section also measures concentrations of volatile organic compounds at selected sites throughout Louisiana.
The Section also reports daily air quality forecasts and readings to the public in the following areas: Baton Rouge, Alexandria, Lafayette, Lake Charles, Monroe, New Orleans, Shreveport and Thibodaux. DEQ provides the information to radio and television news and to local newspapers, who report the air quality reading in a short air quality statement included in the daily weather report mainly during ozone season. Hourly air quality readings and the daily air quality forecast are also available on this web site.
NATIONAL AMBIENT AIR QUALITY STANDARDS
Pollutant
Primary/Secondary
Averaging Time
Level
Form
Attainment Status
Carbon Monxide
Primary

8 - hour

1 - hour

9 ppm

35 ppm

Not to be exceeded more than once per year
Attainment
Lead
Primary and Secondary
Rolling 3 - month average
0.15 µg/m3 (1)
Not to be exceeded
Attainment
Nitrogen Dioxide

Primary

Primary and Secondary

1 - hour

Annual

100 ppb

53ppb (2)

98th percentila, averaged over 3 years

Annual Mean

Attainment
Ambient Air Monitoring Sites
Ambient Air Monitoring Data
Other Links to Air Quality Data
We expect to see reductions in chloroprene emissions immediately.

- Secretary Chuck Carr Brown, PhD.