RMP Assistant
DIRECTIONS: FOR EACH PROCESS AND CHEMICAL, USE THE FOLLOWING STEPS TO DETERMINE IF YOU ARE SUBJECT TO THE CHEMICAL ACCIDENT PREVENTION RULE.
FOR THOSE PROCESSES SUBJECT TO THE RULE, YOU CAN THEN DETERMINE YOUR PROGRAM LEVEL(S).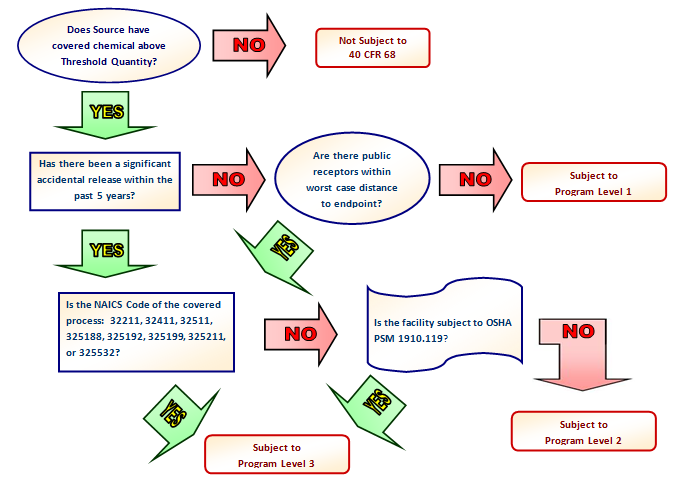 Disclaimer
It is important that the user understand the purpose and limitation of the "RMP Assistant" file. RMP Assistant is not intended to fully represent or be used in place of the regulations. This tool can be used to explore the applicability of the regulations to a specific facility and the facility's program level. The answers provided are not rules nor are they binding upon the Department in any context. The DEQ may withdraw, modify, or depart from the answers provided in this file at any time without notice. For an understanding of the actual regulatory requirements in any given situation, the reader must consult the appropriate sections of (LAC 33:III. Chapter 59) and Title 40 of the Code of Federal Regulations (CFR), pertinent Federal Registers and EPA guidance documents. Should you have a question about Chemical Accident Prevention that RMP Assistant does not address, please feel free to contact the Chemical Accident Prevention staff members via the e-mail address or phone number listed below.
RMP Submittal
NOTICE: Do not send RMP's to DEQ. They must be submitted to EPA. DEQ will receive your RMP from EPA
NOTICE: Remember to include the certification with your RMP. Refer to RMP*Submit user's manual for further instructions on certification.
For further information on RMP submission and access to download RMP*Submit (the free software you use to submit your RMP to EPA), visit EPA's RMP Submission Page.
You will also want to downloadRMP*CompTM if you plan to use it for calculating alternative and/or worst case scenarios.
For obtaining Latitude and Longitude of your facility, Windows Live may be helpful. Enter the physical address of your facility and click button. Look below the map that is created for your latitude and longitude. DEQ does not endorse nor guarantee the accuracy of information. Should you choose to use this method for determining latitude and longitude for RMP*Submit, do the following: To answer 1.5.i. "Method" for determining Lat/Long, enter "I4" which represents "Interpolation - Digital map source (TIGER): derived from a digital map, mapping software or mapping tool.
CAPP Regulation Implementation
DEQ Chemical Accident Prevention Program is responsible for implementing LAC 33.III.Ch.59 in the state of Louisiana. These regulations incorporate by reference the Federal Risk Management Program (40 CFR Part 68). The Chemical Accident Prevention staff is responsible for overseeing applicability of regulations to facilities, registration of facilities, public outreach, and auditing facilities to ensure full compliance. They also verify that all facilities subject to the Risk Management Program in Louisiana are properly registered with DEQ as required by law.
DEQ Chemical Accident Prevention staff are available to discuss, with the regulated community or any appropriate party, aspects of audit approaches, rule interpretation and audit preperation. Inspectors are in the field 3-4 days each week conducting facility audits. Please call ahead so that an agreeable time can be established.
For further information concerning RMP regulation interpretation or state auditing, e-mail us at keri.meyers@la.gov or call DEQ Chemical Accident Prevention Compliance Section--Keri Meyers, Environmental Scientist Staff, at 225-219-3101.
Federal Guidance for Auditing Risk Management Plans/Programs under the Clean Air Act 112(r) can be found on EPA's Website.
State Accident Prevention Law
The regulations pertaining to the Chemical Accident Prevention Program are found in the Louisiana Administrative Code (LAC) 33:III. Chapter 59.
The State of Louisiana adopted by incorporation the federal Chemical Accident Prevention regulations. A copy of the Federal regulations may be viewed at the Federal web site, 2004CFR Title 40, Volume 2.
If there are any questions after reviewing the regulations, e-mail the Deartment's Chemical Accident Prevention Program Section at keri.meyers@la.gov.